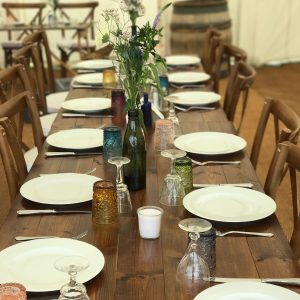 When planning your wedding, you want to know that everything will be perfect. This includes your choice of wedding caterer, providing delicious food to keep guests happy.
When adding special touches to your day, don't forget that your menu and food presentation can make the difference between rumbling bellies and satisfied appetites. Wedding food with a twist can provide the perfect solution, creating moments of excitement which will leave your family and friends talking about your amazing day for years to come.
Here are our top tips to achieve stand-out wedding food to impress your guests.
Freshly Prepared Canapes
Let's be honest. Canapes can be pretty hit and miss when attending an event. So, imagine the delight of your guests if they're served canapes which have been freshly prepared and taken straight to them from the grill. This results in hot, tender bites of heaven which will leave everyone more than excited about the feast to come.
Menu Choices
We've all been to events where we don't know what we'll be eating until it's put in front of us. While the element of surprise can be a good thing, it's pretty risky when you consider that everyone has different tastes. Why not offer a few menu choices so that guests can select the dishes they'd prefer in advance of the wedding? This keeps everyone happy as well as showing you care about their enjoyment of the day.
Seasonal Ingredients
When selecting the right menu for their wedding, couples often forget about choosing appropriately for the time of year. This is especially important if your wedding style reflects the season it's being held in. By using ingredients which are in season, you'll provide some of the freshest food around with delicate flavours aplenty, reflecting the location of your venue and complementing the wedding theme perfectly.
Exciting Visuals
To add a show-stopping element to your catering, choose a wedding food menu which will add theatre to your day. Exciting visuals include food which is cooked in front of guests – an impressive sight at any event. This is a great idea if you have an outside reception, opening up possibilities to provide food which both captivates and entertains. Imagine food which stimulates all the senses before it even hits your guests' taste buds. Picture gorgeous meat sizzling before their eyes, dazzling fire and fragrant salads to pile high on plates.
Food Presentation
The presentation of food can make an impression before guests have even tasted it. Would you enjoy a meal which had been poorly presented and dumped on the plate? Colourful, aromatic and appetising-looking food will leave your guests desperate to tuck in before they've even been seated.
With Fire creates delicious, succulent food by cooking over smoke and fire. We love adding art and theatre to an event while delivering mothering-watering menus for an extra special touch to your wedding catering.
If you'd like to get in touch with your wedding menu ideas, take a look at our wedding catering information and get in touch.