Bespoke BBQ catering and wedding caterers in Hampshire
When you look back on your special day in many years to come, do you want to remember incredible food at your wedding breakfast? A wedding is probably the biggest and most important event you will ever have to organise and we understand how important it is to pull out all the stops when it comes to the food. We specialise in the art and theatrics of cooking using fire and smoke.
We cook and serve authentic, locally-sourced and seasonal dishes all cooked over real fire. Whether it's whole salmons seasoned and cooked to perfection in our fire oven, or melt-on-your mouth meat roasted slowly over smouldering wood, we have a proven track record of delivering unforgettable experiences. Our team will bring your succulent dishes cooked by a team of talented chefs straight from fires.
View Menu
Welcome to With Fire. We specialise in producing the very best wood-fired catering, for weddings, parties and special events throughout Hampshire, London and the South East. Our small team are passionate about authentic and seasonal food, all cooked over real fire to create wholesome and delicious food for your event. Be it a sumptuous wedding breakfast, a special birthday party or an exciting corporate event, we bring professional catering with a twist to your function.
Cooking using smoke and fire can be a great way to add a unique feel to your day, whilst also delivering very special and flavoursome food that people will remember for all the right reasons.
From mouth-watering and delectable canapes, to spectacular sharing feasts or traditional Neapolitan-style pizzas, cooked in a wood fire in just 90 seconds, we bring joy and fun with our BBQ catering and cooking. We know that planning an event can be stressful and time-consuming, which is why we aim to make the experience of choosing the food for your event as fun and relaxing as possible.
The team at With Fire has over five decade's collective experience catering for an array of events, from small and intimate weddings, through to huge corporate events for thousands of people. From the first moment you contact us, we aim to involve you as much as possible, truly personalising the food for your event and helping you make choices about the food you want.
We can cater for groups of all sizes and can work to various budgets to create the perfect menu. We can also work from different venues, so whether you event is at your house, in a marquee in a field, a barn in the countryside, in a stately home or within a city location, we will do our best to offer you exactly what you want. Once the decisions have been made, you can feel confident that we will deliver on the day!
One of the fantastic aspects of BBQ cooking is that it can become part of your theme and inject some drama into the day. For example, sizzling slow-cooked meat or scrumptious wood-fired pizzas will really get guests talking! We will create just the right buzz around the food.
We can offer you a quote at any time and the quote will be fully inclusive, so you are completely aware of all costs involved. We would love to talk through the menus and styles with you to create your dream event.
To talk to us about your ideas for BBQ catering for your special event, please call us on 07825 533 440 or email info@withfire.co.uk.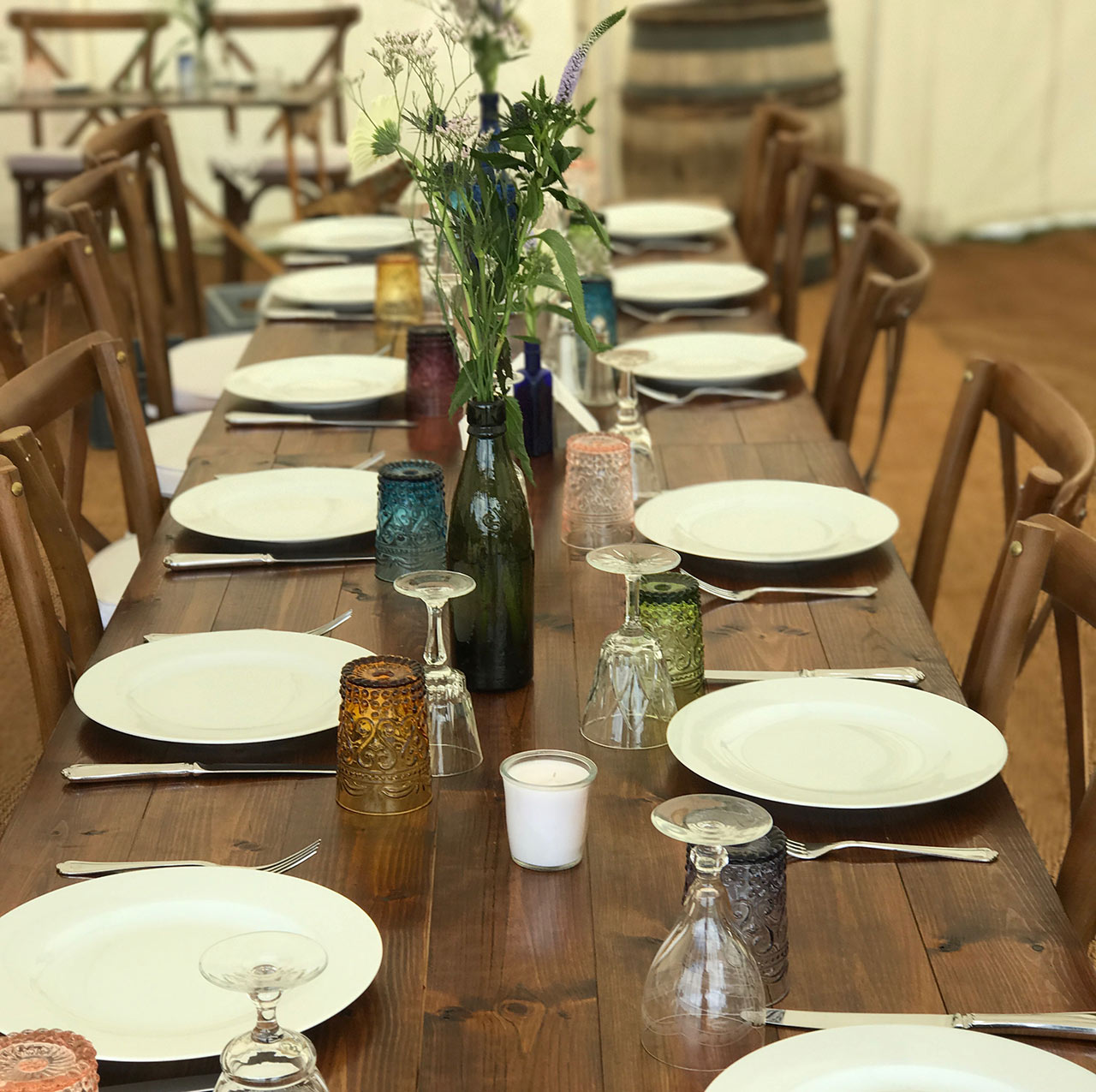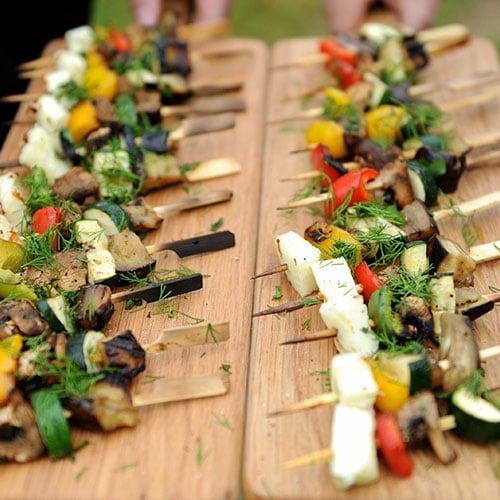 Wedding food with a difference: Let our BBQ caterers in Hampshire create the food for your Wedding Day!
Are you planning your wedding? Bring all your family and friends together to celebrate your Big Day over huge feast of flavours from our wood-fired oven and BBQ. Let With Fire inspire your wedding food ideas. Our cooking combines the theatre of cooking with fire and smoke, making for an unforgettable day for all. Our menu ideas include canapes, mains, desserts and sharing feasts, bursting with an array of different flavours to suit all taste buds.
We know that not everyone will want a sit-down meal and much of our cooking is suitable for more informal eating. We can tailor our menu around your vision for your day. Samples of the menu include:
Canapes: Smoked Salmon Ciabatta Bites (toasted ciabatta, smoked salmon with crème fraiche and hint of horseradish sauce); Posh Surf 'n' Turf (aged rump steak and prawns with salsa Verde); Minted Lamb Lolly Pops; Grilled Veggie Skewers with Grilled Halloumi and Pesto (peppers, mushrooms, onion, courgettes and aubergine); Boerewors (South African Sausage) bites with Mrs Ball's Chutney.
Mains (all served with a selection of home-made sauces): Barbecued Legs of Lamb with Almond, Mint and Honey Dressing; Vegan Miso Roasted Aubergine with Maple Syrup, Ginger and Coriander; Coffee-rubbed Beef Bavette Steak; Paprika and Garlic Grilled Prawns; and Chermoula Roasted Chicken.
Sides: Rocket, Parmesan & Pine Nut Salad; Apple and Watercress Salad; Roasted Mediterranean Vegetables with Tahini, Lemon and Parsley Dressing; Pearl Barley Salad with Feta; Roasted Heritage Carrots, Ricotta and Honeycomb; Artisan Breads with Oil and Balsamic.
Evening Snack Options: Wood fired Pizzas (different toppings available); Hog Roasts; Big Pan Paella with Fresh Seafood and Chicken; Gourmet Cheese Toasties (sourdough bread, Milano salami, Red Leicester and Mozzarella); Big Pan Mexican Chilli with Chorizo, Rice and Cheese.
Read our blog on tips for choosing a wedding caterer and see our gallery for some examples of recent feasts we have served.
BBQ catering and outside catering for events in Hampshire
Here at With Fire, we know how to wow your guests and we can provide first-class and bespoke catering for a whole range of events, from launches and corporate parties, to special occasions. As well as catering for private functions, we have a vast amount of experience in the corporate sector, catering for all types of special events for businesses.
All our food is made using locally-sourced and seasonal ingredients and whether it's mid-week, weekends or in the evening, we will bring the best the BBQ has to offer straight you your chosen venue. Our friendly and skilled chefs and friendly and attentive waiting staff will always ensure that everything runs smoothly, so you can enjoy the party without worrying about the food.
We strive to be the best at what we do and will provide all the food and drink you need to make your event as fantastic as possible. We always endeavour to use our creativity, knowledge and expertise to make you event as perfect as it can be.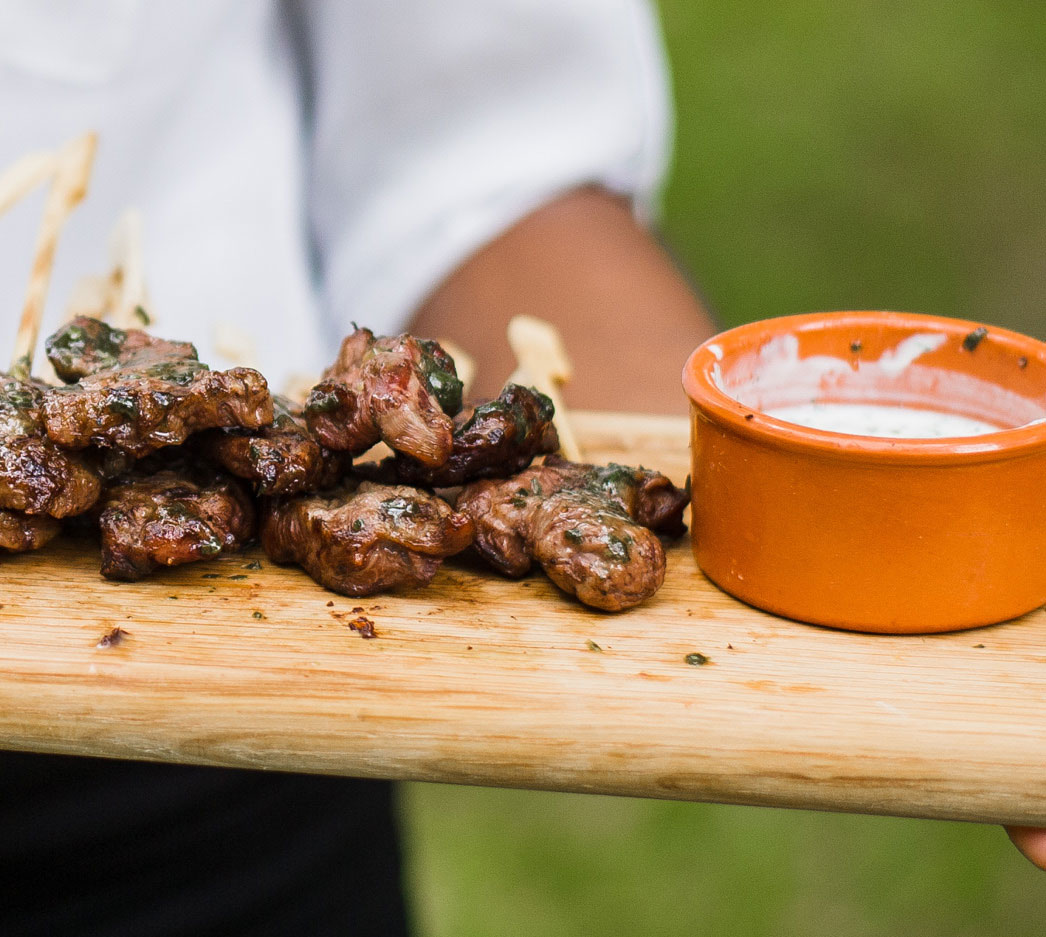 Talk to our BBQ company to discuss your catering in Hampshire!
If you are thinking about bespoke BBQ food for your event, we'd love to talk through the menus and options we offer. We can discuss all your requirements in full to ensure your food goes down a treat! Feel free to call us on 07825 533 440 or email info@withfire.co.uk. Alternatively, pop your details into an online contact form and we will get back to you!