Bespoke wedding and event catering in Surrey
When you look back on your special day in many years to come, do you want to remember incredible food at your wedding breakfast? A wedding is probably the biggest and most important event you will ever have to organise and we understand how important it is to pull out all the stops when it comes to the food. We specialise in the art and theatrics of cooking using fire and smoke.
We cook and serve authentic, locally-sourced and seasonal dishes all cooked over real fire. Whether it's whole salmons seasoned and cooked to perfection in our fire oven, or melt-on-your mouth meat roasted slowly over smouldering wood, we have a proven track record of delivering unforgettable experiences. Our team will bring your succulent dishes cooked by a team of talented chefs straight from fires.
View Menu
Our small team has collectively over 50 years' experience delivering corporate, wedding and private events, with stunning menus, creative flair and a flawless approach. Whether you would like an extravagant sit-down five-course meal for 50 or a buffet event for 3000, we can cater for groups all of all sizes. We are also experts in outside catering, so from marquees in fields, stately homes, or city venues, anything is possible with woodfired cooking. We are also here to offer support and advice about all aspects of your wedding catering, so it feels like one less thing to worry about. We will always be flexible enough to include all your ideas, whilst also having the benefit of tried-and-tested success stories.
We will always give you a transparent quote, with no hidden extras, so you will be completely in control of your budget. We are proud of the fact that much of our business comes from personal recommendations and we are confident that you will love our personal, bespoke service. We are dedicated to the smooth running of your big day and will ensure that everything goes to plan, so you have complete peace of mind.
To discuss your wedding catering or to make any other enquiry, please email info@withfire.co.uk or fill out an online enquiry form and we will give you a call back.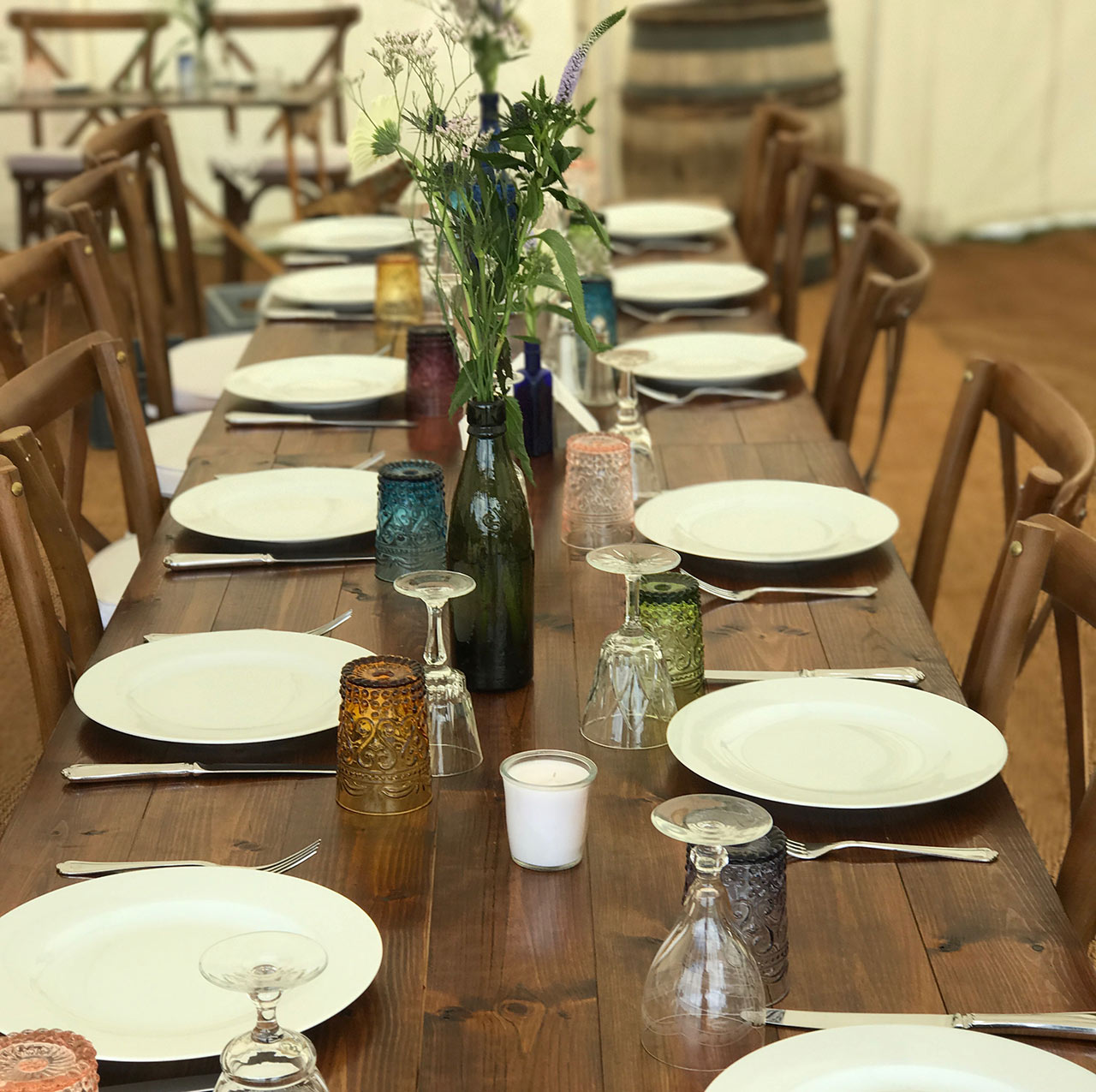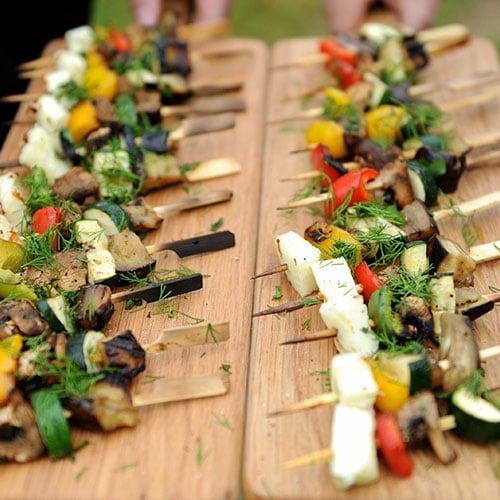 BBQ catering and wedding BBQs in Surrey
Nothing spells out summer like a juicy BBQ and gourmet BBQs have become a new must-have for all special events. If you are thinking about hiring BBQ caterers Surrey for your wedding or special event, then look no further than With Fire. Our experienced and knowledgeable team can organise a unique BBQ feast and wedding BBQ that your guests will love, mixing fantastic and locally-sourced seasonal ingredients and cooking them over fire and charcoal for catering that both offers a unique taste experience and that is visually exciting.
BBQs can make particular enjoyable events and by using our experienced caterers, you can sit back and let us take care of the food, whilst you enjoy time with your guests. Also by hiring our team for your BBQ catering, you can feel assured that the quality of the meat will be second-to-none; we only use the highest quality ingredients to create our mouth-watering meals. Maximise the spring and summer weather and book our BBQ catering team for bespoke, fun and incredible food prepared for every guest
Our set-up also allows us to be flexible with the location of your event, so whether you are celebrating in a private home or farm or the gardens of a hotel, we can help. We have worked with the likes of Barclays, Kurt Geiger and Historic Royal Palaces. From the smallest of events, to those catering for thousands, we are confident that our team can meet all your BBQ catering needs. We have a flexible 'can do' attitude, so we will make sure that your function is a day to remember.
Truly unique outside catering and event catering in Surrey
Fabulous food for perfect events is our specialism. We have years' of experience in the corporate and event catering world and we work with our clients to ensure our menus perfectly complement your event, from launch parties and awards ceremonies to team-building dinners and big birthdays, we have got it covered. We understand how crucial it is for your event to run smoothly, so it is a truly memorable occasion.
Our woodfired food is always dramatic, colourful and packed with amazing flavours. We are experts in basting and know how to create succulent meats, fish and vegetables. All of our main dishes are accompanies by salads and sides.
We can offer the following:
Canapes and bowl food: Ideal for entertaining large numbers of friends, clients or guests, we have an imaginative selection of canapes that are cooked over wood fires. Our canapes and bowl food is always presented with flair and taste incredible. Examples of our canapes include: Hand-Dived Grilled Scallops with Roasted Pumpkin Puree & Chorizo; Hot Oak Smoked Scottish Salmon, Ash Roasted Beetroot & Dill Crostini with Crème Fraiche; and 12-hour Blythburgh Free Range Pulled Pork, Celeriac Remoulade  Picked Ren Onions served on a mini brioche bun.
Wood-fired pizza: From rolling the fresh dough in front of your guests' eyes, through to cooking it in speciality woodfire ovens, our woodfire pizza cooked using the finest seasonal ingredients have a sumptuous flavour.
BBQ: Wood-fired hog roasts and lamb roasts take your average BBQ food to a new level.  We have the equipment, the knowhow and the years of experience cooking over grills.
Bespoke: We can create truly bespoke Indian, Thai or Mexican woodfired dishes for corporate and private events. If you are looking for gourmet catering with a different, With Fire is the company to call!
Check out our gallery to view some of the food we have recently cooked and served to delighted diners.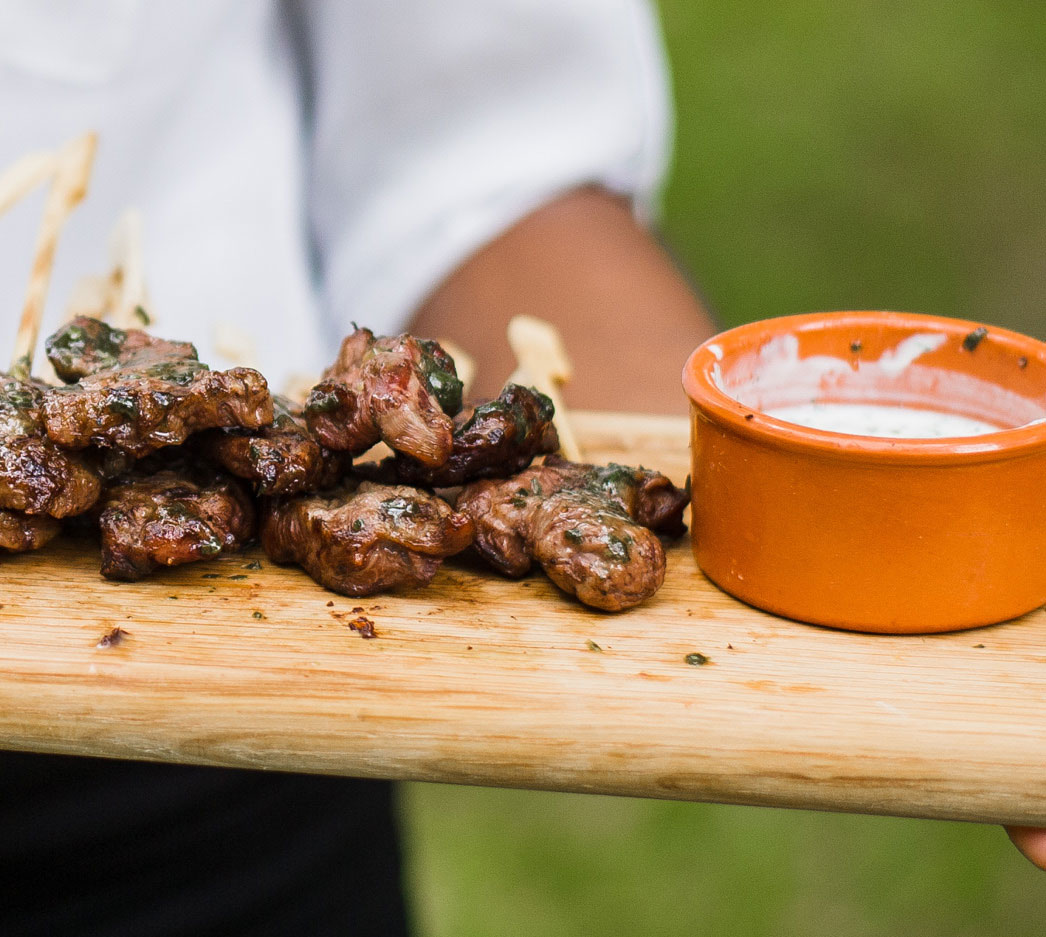 Are you looking for BBQ catering, outside catering or gourmet catering in Surrey?
We concentrate on designing menus that are perfect for your event, whatever it may be! For more details, please email info@withfire.co.uk or fill our an online contact form and we will give you a call.